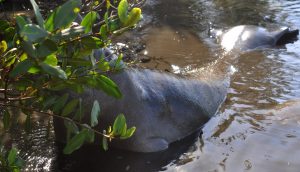 Every winter, on especially cold nights, hundreds of manatees converge in one small canal in Satellite Beach, adjacent to the DeSoto Park. The canal is just several feet deep, so the manatees are clearly visible as they sleep, yawn, stretch, snorkle, lumber over and under each other, and, on occasion, eat the plants by the side of the canal. You'll see baby manatees with their mothers, and sometimes the manatees feed on the plants by the side of the canal. The area is fenced off for the safety and protection of the beloved manatees, but visitors are still mere yards from them, and many come with chairs to sit and enjoy the wild manatees and their activities.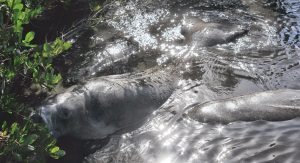 Scientists from the Florida Fish and Wildlife Conservation Commission (FWC) carefully track the population of the endangered manatees, so don't be surprised if they show up to count and identify the manatees in the canal. They can identify many of the manatees specifically, usually based on characteristics like propeller scars and other distinguishing injuries.
It can be dangerous for the manatees coming to the canal. If it gets too cold, they can freeze and die (they actually travel to the canal to stay warm on cold nights), and they have in the past gotten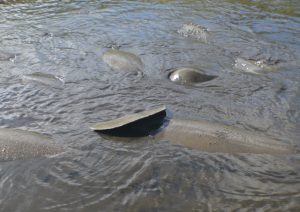 stuck in the canal and in storm drains, so it's important for any manatee watchers to keep a lookout for distress, in order to call the Florida Fish and Wildlife Service if need be.
Mostly, though, the manatees are there for anyone to watch and enjoy, and appreciate in their strange beauty. Hopefully our love of these amazing creatures will impel us to care for the Indian River Lagoon a bit better, as so much unique wildlife depends on it.
And when you come to Satellite Beach to check out the manatees, stay for some of the other things SB has to offer. DeSoto Park has free (and super close) parking to the manatees, and a great, accessible viewing area – but it also has a small lake with a fountain, a walking path, and some exercise equipment. Grab some lunch at Long Doggers or the Banana River Cafe, and then stroll on over to the Banana River Yard, right next door.