The Brevard Zoo isn't one of the largest zoos I've ever been to, but it's well worth a visit for a number of reasons.
First, it's cool. Like, literally. This is no trek-about-Disney-in-the-blaring-sun. The Brevard Zoo has trees and shade everywhere, and even in the hottest part of summer it feels about ten degrees cooler than the rest of the county. It's actually so pleasant to walk around the zoo that often, as we're leaving, I'll be like "oh, yeah, it's a really hot day."
Second, the animal enclosures are quite nice. Sometimes zoos feel as though they sacrifice enclosure quality for the sake of having more exhibits, more animals. The Brevard Zoo doesn't do that, which is why some animals aren't to be found there. They have no lions or tigers, no elephants … but the animals they do have enjoy genuinely rich surroundings. The giraffes have acres on which to gallop, a frequent sight (and fun to watch). The cheetahs have space to run. The lemurs have an island to frolic upon.
The zoo is big into conservation efforts. They have a sea-turtle rehabilitation program. They are working to help restore the Indian River Lagoon for future generations of wildlife. Find out more about their conservation efforts here.
They have all sorts of activities you can do for a pretty small extra cost. There is kayaking a stream that winds through various exhibit areas, a cute behind-the-scenes train ride kids will love, various animal encounters, giraffe feeding, lorakeet or cockatiel feeding, and numerous free shows throughout the day. If you come at the right time, usually 9:30 in the morning or 4 pm, you can feed stingrays for free. Also in the morning, usually around 9:30, you can watch the armadillos eat their breakfast, if it's not too cold out. There's a free petting zoo, and a small water park for kids.
It's not an inexpensive zoo, for basic admission, but if you're on vacation it's worth the visit because it's uniquely laid out (and you're supporting conservation efforts). If you're a resident of Brevard, I'd advise the annual pass – it can be fun to pop in for an hour or so, watch some meerkats scamper about, feed a giraffe, then be on your way.
It's arranged by geographic region, each like a spoke extending from a central wheel. There's Africa, with the ever-adorable (previously mentioned) meerkats, rhinos, zebras, giraffes, and cheetahs.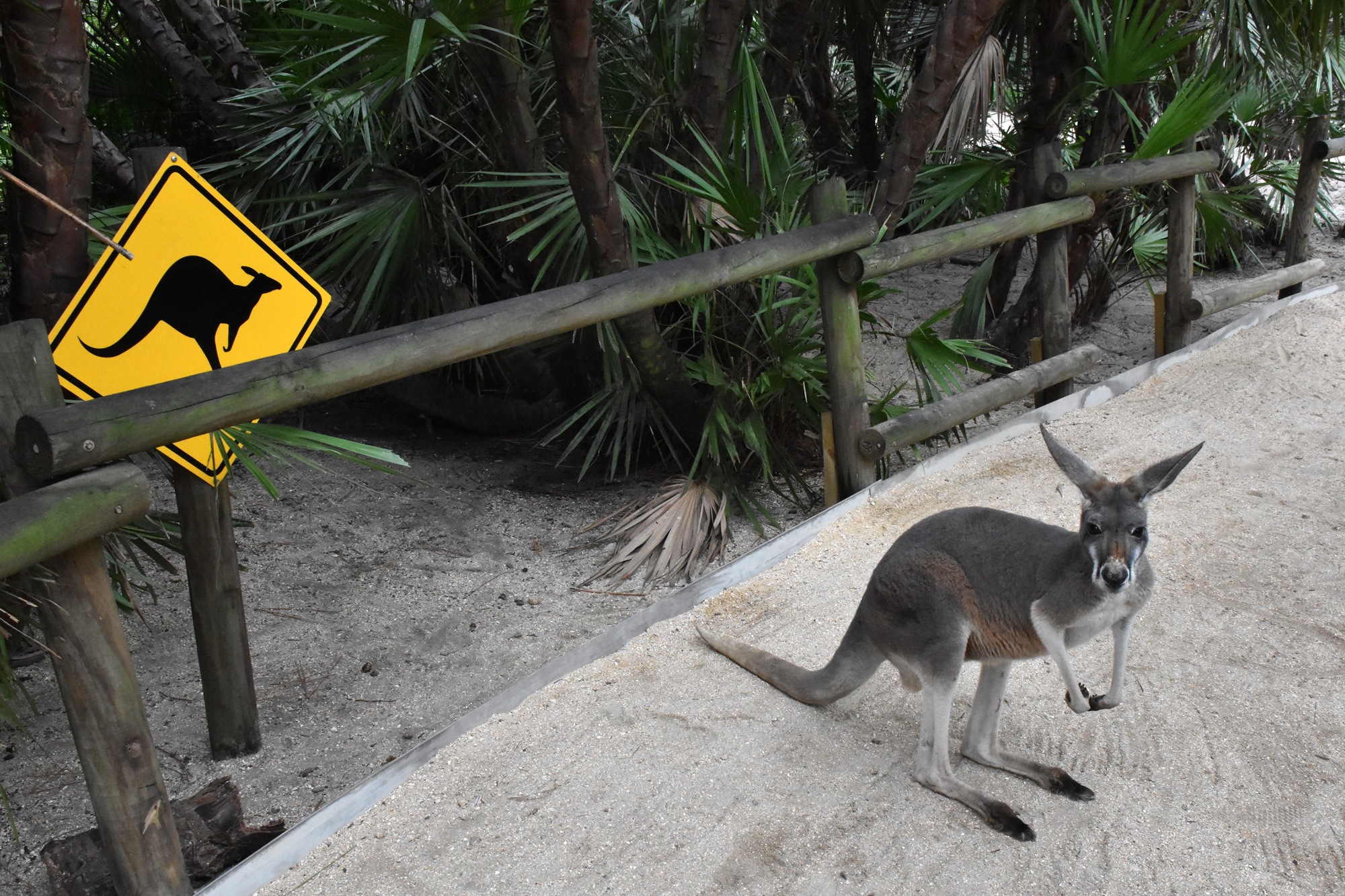 There's Australia/Asia, with a hands-on aviary, and a kangaroo exhibit which often finds kangaroos lounging across your path. There's Wild Florida, with the requisite alligators, and the Rainforest path with various animals of the jungle. (I'm dubious about the sloth though. Seriously, Never once have we seen the sloth. If you see it, shoot me a picture. I think the sloth exhibit is pulling a fast one on us.)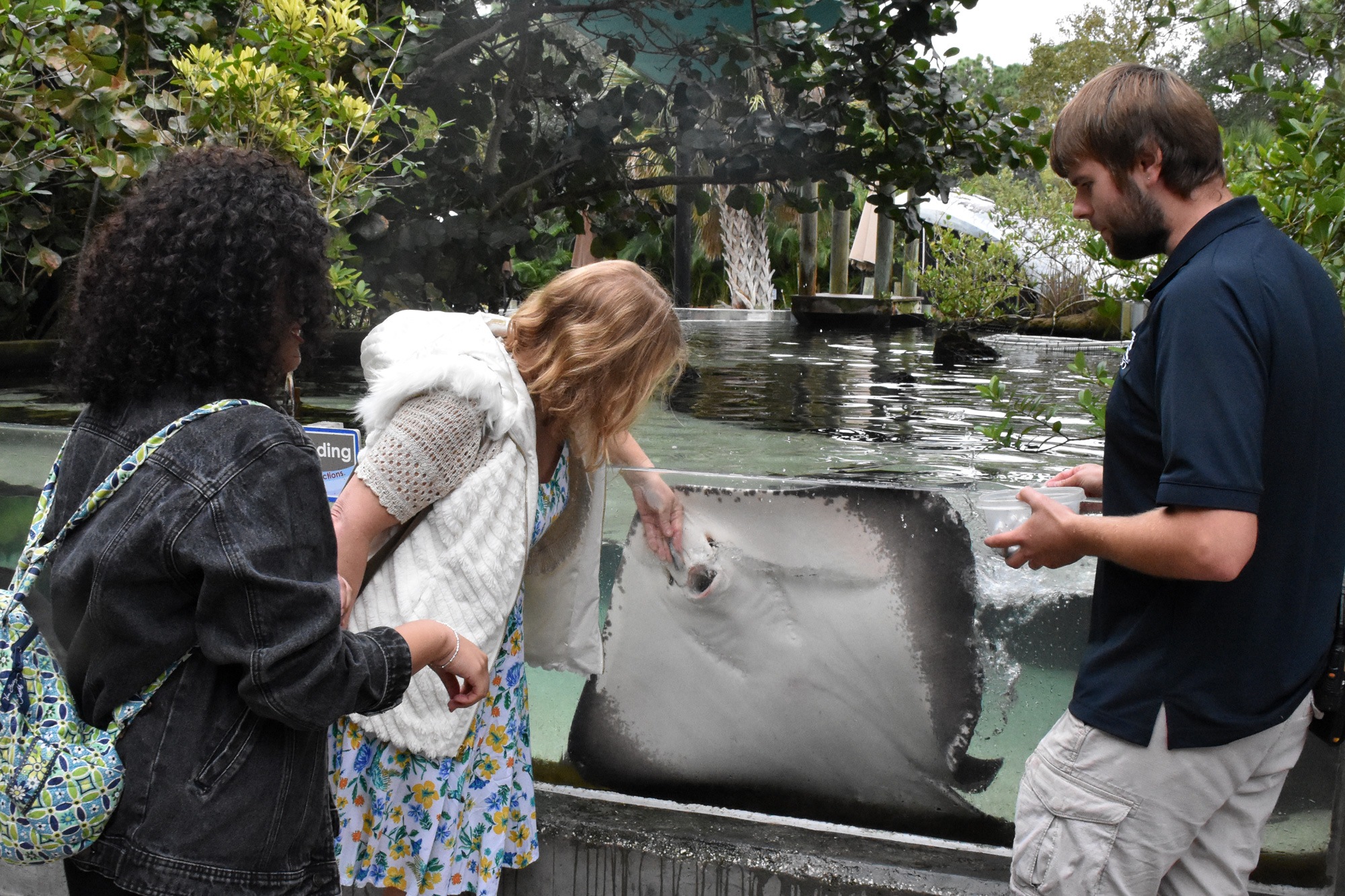 Paws On has the petting zoo, the water park, and the aquarium with the stingrays among many other animals.
For a separate event, which I would not plan the same day as your general zoo visit, the zoo offers a Treetop Trek. Depending on how adventurous, and athletic, you are, you climb some (terrifyingly) high towers and zipline from place to place over many of the zoo exhibits. I found it both exhilarating and scary, but would recommend it to anyone looking for a bit of a thrill.