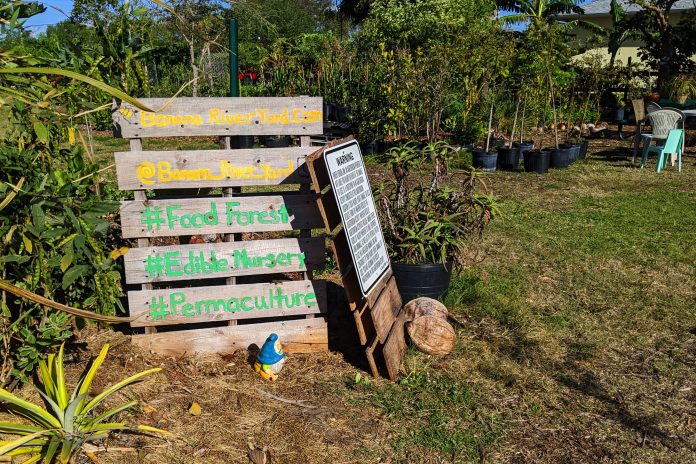 The Banana River Yard's hours are: Monday, they open at 4, and have their awesome PLANT SCHOOL for kids at 4:30; Tuesday and Wednesday, 9-5; Thursday and Friday, 9-4:30; and Saturday 9-1; Closed Sundays. They sell produce and other items at the Farmer's Market in Satellite Beach on Thursdays. Like them on Facebook, or call or text them at: 321-358-5710. They continue to grow, have included a Tiki Hut, will soon have a juice bar, and are such a gift to our community!
Florida calls out for gardening. Things grow. They grow quickly, and large, and frequently out of control. For years, I've planted hibiscus, daylilies (which *can* grow in 9b, but you have to buy the ones that don't need to freeze), and annual herbs. After 4 years of living here, last July our next-door neighbors brought us two mangoes from their yard. Initially, I was sorta ambivalent. Cool. Mangoes. But then, I tasted the delicious freshly-grown Kent mangoes and suddenly I had a new passion: fruit trees! I live in FLORIDA!! I can grow FRUIT TREES!! I couldn't believe it had taken me 4 years to come to this realization.
So I started planting trees. I went to a few nurseries that are near-but-not-too-near (between 30 and 60 minutes away), and bought some trees. I started with mango and avocado. I began researching varieties. I ordered trees online. I bought some from Lowes and Home Depot. I added figs, guava, barbados cherry, blueberries, blackberries, pomegranates, and, this year, peaches, pineapple guava, and bananas.
I'm chronicling what does, and doesn't, seem to do well here in our sandy soil with our salty well-water, and with my personal gardening style which is an unlikely mix of excessive attention and benign neglect. You can read about that here.
But in this post, I want to highlight a new nursery I recently discovered, here in Satellite Beach, about a mile from me. I want the Banana River Yard to be a success. Why?
Great Local Customer Service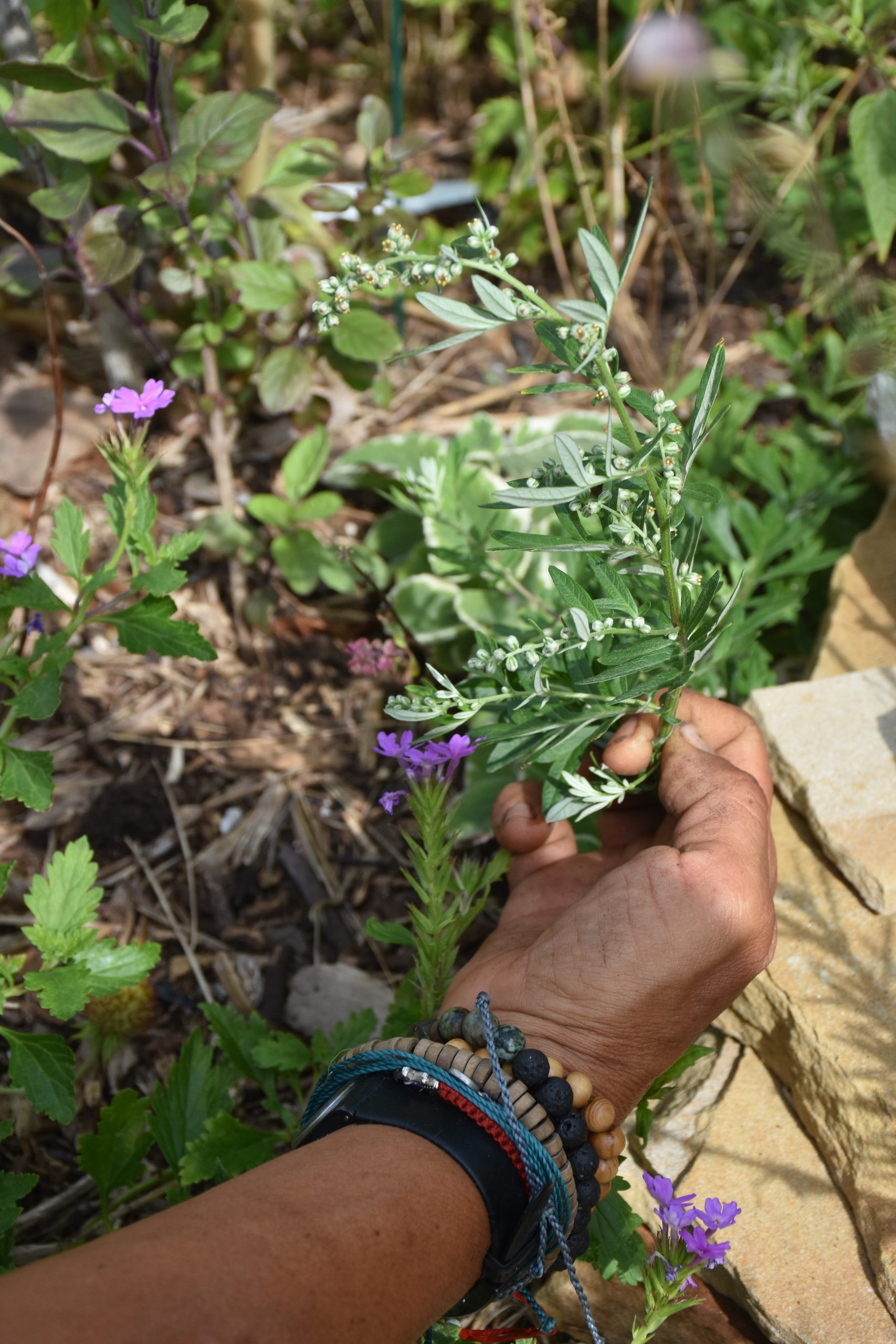 The people who run it, Ben and Maria Elena, are incredibly nice. They'll talk with you about trees, they'll try to get specialized trees for you, they'll take the time to explain whatever you want to know about the trees and other plants they grow and sell. They have customer service down to a tee.
Even though the nursery is very new and still getting on its feet, Ben and Maria Elena give back to the community. Weekly, Mondays at 4:30, they hold a Plant School for kids (though adults are welcome too!). Each week, they teach about a particular plant, its properties, its uses, and how to grow it. They help kids begin their own starter plants. They make, and share, recipes using the plant. They help children learn about growing organic foods in a fun, interactive, and hands-on way. Both have a background in teaching, and it shows. They're naturals.
Their prices are amazing. They're working hard to get the business up and running, but they still price themselves lower than the surrounding nurseries, even while providing more hands-on customer service. 
They're turning what was a vacant lot into a beautiful, useful and educational business in our community. 
Today I stopped by to ask about getting a tallish mango tree. Our salty well sprinkler water decimates mango leaves, but once the leaves are high enough to avoid the water, the trees seem to do okay. Ben's been helping me scour his tree sources for mango trees that are tall enough to avoid our sprinklers, and that fruit any time other than July and August, when our Valencia Pride should provide enough fruit for us and our nearest and dearest pretty soon.
Just One Visit's Experience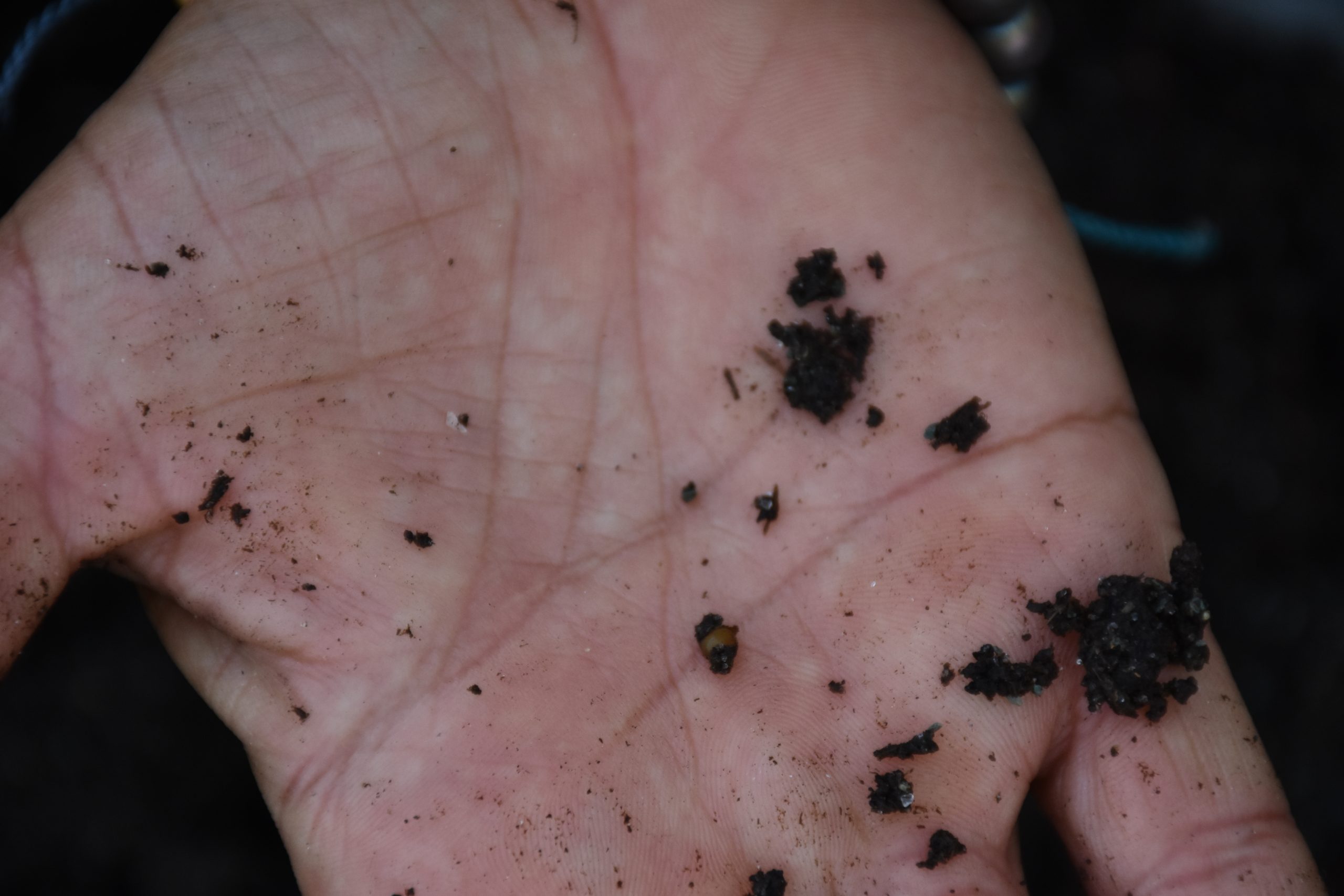 When there today, I met Maria Elena for the first time. During our 30 or so minutes together, she:
taught me about how to create a worm bin, why it's useful, and how to turn the worm castings into a beneficial tea for my trees – and how to apply that tea to the roots and leaves;

showed me her medicinal garden, and explained the properties of many of the plants she has growing; as she did this, she continually gave me seeds to plant, leaves to make into tea, and branches to root and grow in my own garden;

gave me a bag of worm castings to use to start my own worm bin, and patiently told me the instructions again as I wrote them down (this time). (They will soon be selling the worm castings, so I am super appreciative of the gift; in fact, I'd have happily paid for the bag of black gold and the knowledge so freely shared. I've heard of having a worm bin before, but never tried it. Maria Elena just made it so … easy … to start!)

gave me two eggs from their chickens, as she was gathering the eggs as we talked.

(Earlier today, my son stopped by to get more basil plants for our garden, and he ended up finding Genoese basil, purple basil, garlic chives, and dill for $10 total, and a large rosemary plant for a bit more.)
Soon the Banana River Yard's tiki hut will have a juice bar with snacks made from the fruit and plants grown on-premises, as well as other light refreshments. 
If you're looking for a small but excellent nursery, or are hoping to find a particular plant or herb, and you want top-notch customer service, or if you have a child who would love to attend Plant School, I'd recommend calling the Banana River Yard.